This week's exposure to recruiter-bashing came at a business networking function I attended earlier this week.  A conversation with a very entrepreneurial-minded lady wound it's way from her upbringing in New Zealand, to her life overseas, and her "work" history littered with strange, bizzare and barely credible business ventures.  In her own mind she was an entrepreneur anyway, although the truth is this word can seemingly apply to anyone from Richard Branson down to people that don't know what they want to do for a living, so they end up doing nothing of consequence.
Her return to New Zealand in a jobseeking frame of mind saw her encounter all forms of nefarious entities of our recruitment industry (you know, the recruiters posting vacancies on job boards).  Naturally, with no actual credible or tangible working history to refer to, all the recruiters she encountered struggled to "understand" her and failed to "get her any interviews".  I explained to her that recruiters are there to recruit for clients, not provide career advice to someone effectively looking to enter the permanently-employed workforce for the first time.  Recruiters by necessity, driven more by the behaviours and demands of their clients and hiring managers, are always going to be looking for the candidate that fits more neatly into a box.  Because it's those candidates that are known as being place-able.  And recruiters place people, to please clients, and to make money.
It's that simple.
But it didn't wash, of course.  She decided she could do better.  Amazingly, she got a job in a (since acquired, now defunct) recruitment brand, where she proceeded to "treat candidates with the respect they deserve".  Funnily enough she didn't last much beyond a year.  I'm sure the candidates all loved her, but clearly she didn't place enough of them into roles to actually make a worthwhile living out of our disgraceful profession.
The thing is, you just can't work in recruitment and please all the people all the time.  That's why it's always a red flag when a wannabe recruiter tells me they want to get into recruitment because they like people, and want to help them.
They will hate it.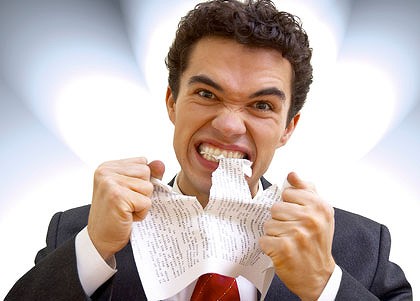 When we receive spammed or generic job applications from candidates, particularly the ones from people not even vaguely related to the role we are recruiting, we typically respond with a generic reject email.  And so it was that another one of my team received a disgruntled email from a rejected candidate this week:
WOW!  I'm so glad that its a 'no' as I would be unwilling to go any further with a company that produces a 'rejection' letter like this!  So unprofessional on so many levels! I wasn't applying for a specific job so I don't know why you read my email "along with everyone elses" …. next time you send out a standardised letter maybe you should read it first.
Never ones to turn down the chance for debate, we responded:
Thanks for your feedback, it's genuinely appreciated. Unfortunately, due to the number of CVs we receive, we simply don't have the time to write personalised emails to every single applicant who emails a CV. So yes, our  "rejection" letter is generic. Another option is no reply, which I'm pretty sure you'll get from some other agencies that you've emailed. I don't think this is ideal either. A further option again, would be the standard "We will keep your CV on our file etc.". To be honest, I find these emails to be slightly insincere. You can read our generic email as being "unprofessional" as is your prerogative. Personally, I prefer (and stand by) the sentiment expressed in our "rejection" letter, which I feel is a more personable.

In terms of you not applying for a "specific job", I will with respect turn your argument around slightly. You suggest my response wasn't relevant to the email you sent and that I haven't taken the time to read your email and amend my response accordingly. How much research have you done into Rice Consulting? Have you read the vacancies on our website? If you have, you'll know that we recruit exclusively for the Recruitment and Recruitment/HR industries. Therefore, all candidates who have taken the time to research what we do, will have made contact in order to pursue opportunities within this sector. This is why our generic response for unsuccessful candidates carries the line "recruitment consultant vacancies".

I am absolutely guilty of sending a generic rejection email. I also agree that we as a business can put more thought into making it "non-recruitment" specific for people such as yourself. However, you have also sent me, and I'm guessing many others, a generic email. I believe that your career search would be better spent engaging with agencies who are specific to the sector that you wish to work in, and then personalising your email based on the vacancies that they advertise or the specific sector that they serve.

I hope you take this email as intended, and I'm more than happy to talk through any further points on the phone.
We haven't yet had a response…
How would you respond?  Did we go too far?  Should we just send out bland, pithy-mouthed rejection emails that tick the compliance box and nothing more?  Are we just being arrogant recruiters, and should we allow candidates to spam us with generic applications but not receive the same in return?
You can comment below.  Or even better, you can tell us in person, at the upcoming #RicePowWow on 26th March.  It's a free networking event that we run at the end of every quarter and is open to anyone in or associated with the recruitment industry.  Even the people mentioned above, if you read this, you're more than welcome.  What better way to celebrate the end of another Financial Year of recruiter bashing and recruitment stories with some drinks on the boys from #GetIn and some pizzas from the Trade Me Jobs team.
We also have a free ticket for #IT18NZ to give away to one lucky PowWow attendee – so come along – RSVP here.