Noting special really happened this week.  Oh hang on… Now some flashbacks are starting to filter through the fug of memory.  Goodness.  Wow.  Really?  Oh yeah that and that and that.  And that!
Actually this week has to have been the most edifying, uplifting and satisfying since I dragged my 21 year-old self out of student apathy and leapt into the workforce.  A real humdinger of a week for recruitment.
A recap?  Oh go on then:
 We kicked our week off with the launch of our new brands in the Rice Consulting and virtualRPO businesses.  We've been compared to an FMCG brand, a baking business, a coffee roaster, a cafe chain and a marketing business.  Which we are totally fine with.  We've also had it suggested it doesn't look like a recruitment business brand.  Which we are totally down with too (please note had we actually been a marketing or advertising business I would have had to say totes instead of totally – we do still do recruitment really).  Thank you to Catherine "Spilz" Spiller and her team at Adcorp for getting what we are all about and creating the new logos.
We were then able to show off our new look at the incredibly entertaining, ice-breaking, network-boosting #RhubSocial, the pre-conference get together we hosted here at Generator on Tuesday night.  When I say new-look, I mean the new logos, not the fact Sean and I dressed like twins.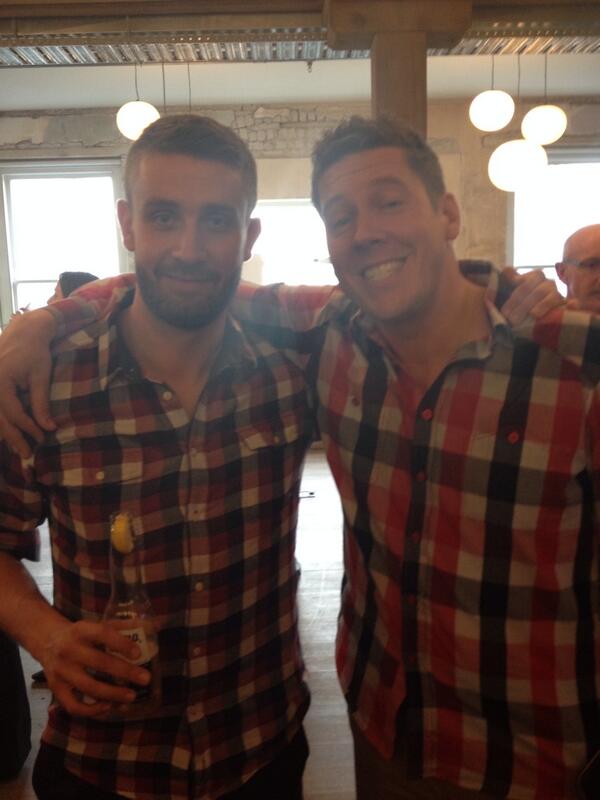 I'd like to say it'll never happen again but we're pretty close to it today too….sigh.  Maybe we'll just have to go back to wearing suits.
Then of course we had Recruiters' Hub 2013 (#RhubNZ) on Wednesday.  What an awesome day of learning, collaboration, networking, interaction and fun.  From a day of so many take aways it's hard to know where to start when re-capping the event, but some particular highlights for me had to be:
Keynote speaker Andy Headworth's eye-opening, global-minded takes on what is happening to us in recruitment right now, especially the "Progressive Disruption" of new technologies in our sector.  As the Yoda slide perfectly put it: "…to be a better recruiter tomorrow, adopt the technologies of today."
Jane Kennelly from Frog Recruitment talking about her most unusual sourcing channel used.  When they were tasked with recruiting a Chaplain what channel did they use?  They prayed… love it!
I thought it was awesome that Pip O'Connell and Jeff McDonald from the MBIE Procurement team looking after the AOG contract came along to "front up" as they put it!  Fair play to them and a lot of respect was won for doing that.  The Q & A post-presentation went on as long as the presentation itself but was all conducted in a cool way.
Amanda Tolley from SkyCity sharing a top recruitment tip that now and then we should all try applying for one of our roles as if we are a candidate.  It's amazing what results come from that, and somethimes helps you realise how painful it is for a candidate just trying to connect with us.
Dr Paul Wood's closing keynote was just stunning.  Everyone there knows what I mean.  After a day of recruitment talk, tired and looking forward to drinks, it was great to hear such an inspirational story of triumphing over adversity and confronting fears.  So easy to apply to our every day lives as recruiters.
As for the lunch time performance to get us all going again…well I have to take my hat off to the Hip Operation Crew!  What an awesome bunch of people and fair play to them.  I have heard from more than one person that they found themselves close to tears, but couldn't work out why…
There were so many awesome contributions, including concurrent sessions that I didn't get to listen to, and several unconference tracks happening at once, that this is of course not an exhaustive list.  Thanks to everyone who contributed, spoke, volunteered and attended to make it such a great event.  But the quote of the day for me had to be:
"I'm 91, and I am… Ninety"
Who said that?  Answers and your own highlights in the comments please!
Thursday was a day of beautiful irony.  The day after a conference with the overall theme of "Crossing the Productivity Chasm" saw one of the quietest days in New Zealand's recruitment industry, hungover tweets trickling out onto social media and one recruiter I know finding himself, by late afternoon, just staring mesmerised at a new App where you can follow international flights in real-time on your screen, like an air traffic controller.
So now here we are, at the end of a top week, a week in which virtualRPO, the business I co-founded with Sean Walters, turned One.  To celebrate we are taking our awesome ROD's (recruiters on demand) out for a lunch, but we couldn't have done it without our wonderful clients too, so thank you, you know who you are.
Now it's time to get back to recruiting, albeit with a head full of new ideas and network full of new contacts.
How was your week?